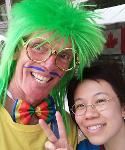 Background Extra Work since 2017:
Legends of Tomorrow, Riverdale, 4 Xmases & a Wedding, The Crossing, A Series Of Unfortunate Events, The Good Doctor, Valley Of The Boom, Unspeakable, Sabrina, A Million Little Things, Gingerbread Romance, Deadly Class, SEE, Midnight Kiss, Ink, Charmed, Fallen Heart, Over The Moon In Love, Sacred Lies, There's Someone In Your House, Godwink, Supernatural, Zoey's Extraordinary Playlist, You Light Up My Xmas, Siren, Unforgettable Xmas (Xmas On My Mind), The Stand.

Since going professional as a clown in December of 2001, I've worked over 2000 events, including fairs, weddings, customer appreciation days, and birthday parties for all ages. I do balloon sculpture, magic, juggling, unicycling, stilt-walking, guitar & singing.

Member of Raincoast Clown Troupe 2005 - present.
Member of Clowns Canada 2004 - 2005 and 2016 Jan 06 - present.

I have attended the annual convention Clown Fun 2005, 2006, 2007, 2008, 2009, 2010, 2011 & 2013 in Calgary, the NorthWest Clown Festival in Idaho in 2010, the World Clown Association Convention in Reno in 2015, and PCAM / CAM Convention 2017 in Chilliwack (Pacific Coast Association of Magicians), Bling Bling Jam 2017 & 2018 & 2019 in Las Vegas (balloon twisting convention).

Born in Vancouver in 1956. Lived in East Van, Langley & Surrey mostly.
Retired from BC Hydro in 2012, after 37 years. Electrical Design for the last 25.
I have three wonderful sons, and two grand-children.
Film & Television
Background Extra Work since 2017
Skills and Interests
Unicycling, stilt-walking, balloon sculpture, magic, juggling, guitar, ukulele & singing.
-----------------------------------------------------
I practise Meditation, Yoga, Tai Chi, Tae Kwon Do and singing daily.
-----------------------------------------------------
Member of Woo Kim Langley Tae Kwon Do 2005 - 2015. Black belt in 2009.
Member of Taoist Tai Chi Chi Society of Canada 2012 - 2017.
Member of Scouts Canada 1991 - present.
I held a Level III Worksafe First Aid Ticket for over ten years, until March 2013.
Certified 1st & 2nd Degree Reiki in 1984. Teacher: Carrel A Farmer.
Completed Reiki Master training in 2010. Teacher: Virginia Smith.