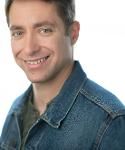 David Larson is a reliable/dependable man new to the industry. Originally was pursuing a career as a biologist; but as his voice deepened and his confidence grew he decided to make changes to his life.

Now as a budding background performer and aspiring actor; David is looking to make a name for himself as a person you want to associate with.

When not working on set, David works on various voice over projects ranging from fan dubbing to corporate commercials; which he records from in his own studio.

So if you're ever looking for a deep, unique voice for singing, narrating, announcing, or anything else; David would make the perfect choice.
Film & Television
The 100
Killed COG soldier (SAE)
Training
First Step Actors Workshop
2018 - 2019
On the Mic Training
Foundations/Video Games
2019
Story Institute
Auditioning/Voice over training
2019 - 2021
Actros Chapel
Scott Bromley
April 2021 - September 2021
Skills and Interests
Voice Over
Singing
Sports - Basketball, Baseball, Volleyball, tennis, ping pong
Hiking
Construction
Level 2 First Aid
Weight Training
Biology Degree