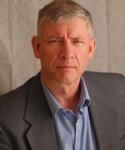 Originally from Wigan, near Manchester, England, Ian Gregson is a Vancouver based actor and musician.

Ian started work in Vancouver in 1992 as a specialty skills background performer in Diagnosis Murder with Dick van Dyke. Throughout the 90's Ian worked as background performer in many Vancouver productions including Highlander, X-Files, Millenium and The Sentinnel. In 1998 he acted as an amputee stunt double in the Leslie Neilsen movie "Wrongfully Accused".

A chance meeting with his hometown hero Sir Ian McKellan inspired Ian to re-think the movie business. After working in post-secondary education for a few more years, Ian returned to the industry in 2009 and has subsequently appeared in many local productions. Ian has a professional attitude, arrives well before time and is a consistent performer and active listener.

Ian performed the role of "Cyrus Clayton" an amputee ghost in the Emmy Award winning RL Stine's "The Haunting Hour" [Season 4 EP 01] "The Seance".

Ian is also a professional musician and has worked on numerous productions. Ian has full professional equipment setup including amplifiers, guitars and keyboards.

Ian has been a single right leg amputee since the age of 15; he is able to perform both amputee and non amputee roles. Ian is a full UBCP member.

See Ian's DEMO REEL https://tinyurl.com/yck9bshs

See Ian on IMDB https://tinyurl.com/3k574v4e
ACTOR/STUNTS
The Haunting Hour
Cyrus Clayton
"The Seance" --- Front Street Pictures
UBC School of Medicine
Doctor
When Calls The Heart
Amputee Stunt Double [Chad Willett]
Ep 107 & 108 Hallmark Channel
Wrongfully Accused [1998]
Amputee Stunt Double [Aaron Pearl]
Morgan Creek Productions
SPECIAL SKILLS 2018 [Amputee]
Snowpiercer
Season 01 Continuity
Tailee Amputee
A Dogs Purpose
Feature
Amputee Veteran
The Seventh Son
Feature
Townsperson amputee
The 100
S05115
Wounded Soldier
Once Upon A Time
.
Wounded Soldier
When Calls The Heart
S01E08
Amputee Double Chad Willet
Witches of East End
Amputee Veteran
STAND IN/DOUBLE 2018 [studio only]
The Good Doctor
S01.15
Barry [guest character]
Legends
S02
Dr Martin Stein [Victor Garber]
Dragged Across Concrete
Feature
Mel Gibson [Double]
TELEVISON [Background]
A Million Little Things
Sacred Lies
Project Blue Book
Snowpiercer [S01 continuity amputee]
Good Doctor [S02]
Supergirl
Frequency [Continuity]
Lucifer [continuity]
IZombie
Timeless [pilot]
Reverie [pilot]
The Trustee [pilot]
Eggplant Emoji
Shut Eye
Status Update
Peach Cobbler Murder
Unbreak My Heart [MOW]
The Romeo Section
Rogue
Legends of Tomorrow [Stand-In]
Love on the Sidelines
Unreal
Proof
The Whispers
Girlfriends Guide to Divorce [Season 1&2]
Intruders
Santa's Little Helper
The Flash [continuity]
Meteor Assualt
The Interrogation
Get Out Alive
Radio Hype
Warriors [SAE]
Motive
Cedar Cove [Season 1,2,3]
Arrow
Package Deal [Season 2]
Signed Sealed Delivered
Backstrom
The Nearlyweds
Psych [Seasons 4-7]
Supernatural [Seasons 6-10]
Smallville [S09 SAE man with dog]
Fairly Legal [Season 1,2]
Fringe [Season 3,4]
Life Unexpected
Caprica
Human Target
Stargate Universe [SAE Amputee]
CHAOS
Mortal Combat [Web Series]
Hellcats
Alcatraz [Ep3]
Shattered
Normal [MOW]
The Surrogate [MOW]
The Killing [Season 2&4]
Deck The Halls [TV Movie]
Falling Skies [Season 2,3 continuity]
Continuum
Once Upon A Time
The Secret Circle
Emily Owens MD/The First Cut [pilot]
Twinkle
Endgame
After All These Years [MOW]
Untold Stories of the ER
True Justice [SAE Amputee]
He Loves Me [MOW]
Cult
Arctic Air [Season 2]
Intelligence
Almost Human
King & Maxwell
Christmas Bounty
Grim Sleeper [MOW]
Witches of East End
Run for Your Life
V [Season 1,2]
Highlander [SAE Amputee]
X-Files [SAE Amputee] Seasons 5,6 & 10
Diagnosis Murder [SAE Amputee] 1992
The Raven [trailer]
The Sentinnel
COMMERCIALS
Finance Canada
KBS+/OPS Productions
Construction Worker
Public Service Employees of Canada
SOC
Amputee in Rehab
FEATURES [Background]
Godzilla [2014]
When We Rise [mini series]
This Is Your Death [2017]
Wrongfully Accused [stunt double] 1998
The Posession
Alvin & The Chipmunks 3
A-Team
This Means War [SAE Musician]
Rise of the Planet of the Apes
Diary of a Wimpy Kid [1, 2 & 3]
Twilight 4 [Breaking Dawn Pt 1]
The Sixth Man [1996]
The Big Year
The Company You Keep
The Seventh Son [SAE Amputee]
SKILLS
Guitar Player with Pro Gear
Above Knee amputee
Wheelchair user skills
Can use crutches, canes etc
Stunt work - fit and healthy
Has numerous prosthetic legs available
PADI certified scuba diver
Cycling
Weight lifting
Yoga
Volleyball
Badminton
Wheelchair Basketball
IT Professional with tools
Toyota Rav 4 1999
Skills and Interests
Ian has been an above knee amputee since 1978. He competed for Canada at the 1984 and 1988 Paralympics and competed in powerlifting locally until 2001. In 2001 and 2005 Ian ran in the BC provincial election and in 2008 and 2011 Vancouver Civic elections. Ian is an avid cyclist, well recognised for showing up to work on his bike regardless of weather. Ian has also been doing Yoga for about six years. Ian is able to perform amputee and non amputee roles.

Ian is an accomplished writer having published his book "Irresistible Force - The Story of Canada's Athlete's with disabilities" in 1998.