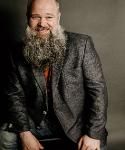 Kevin has enjoyed a multi-faceted career as a singer, actor, musician and director. He has performed on stages across Europe and North America as a singing actor, performing in shows ranging from traditional opera to rock musicals and experimental theatre. He is now fulfilling his lifelong dream of bringing his widely varied skill set to the film industry.

Kevin grew up in the richly artistic community of Nelson, British Columbia, where he was exposed to all types of music, visual art and theatre.  Kevin started music lessons by age 10, and by college, had already studied classical, jazz and rock guitar, drums and voice. Kevin moved to Montreal in 1996 to pursue music studies at McGill University. While completing his Master's Degree in Opera Performance, Kevin also released two albums of original material, Second Album (1998) and Sound Castles (2002).  

In 2002, Kevin moved to Zürich, Switzerland, where he did an apprenticeship at the Zürich Opera house.  There he had the opportunity to perform onstage next to some of the biggest names in the opera word, and his European stage career had begun.  Recent productions include the role of Pilate in numerous productions of Jesus Christ Superstar (including the ThunerSeespiele, the largest musical festival in Switzerland), as well as opera performances in Frankfurt, Wiesbaden and Zürich.  Kevin also recently completed a 60-city tour of Germany, Austria and Switzerland with "Night of the Musicals", Europe's longest-running touring musical show, as well as a recital tour of the BC interior with internationally renowned organist Robert Kwan.

Kevin's one-man-show, "Opera for Heathens", was a hit at the 2011 Edmonton International Fringe Festival playing to sold-out houses at the famed Yardbird Suite, as well as the 2012 Vancouver Fringe. "Opera for Heathens is a beautiful and often electrifying display." wrote the Vue Weekly, Edmonton, and Colin Maclean of the Edmonton Sun wrote "I had a joyous experience... He had us all singing about that illusive fellow Figaro, while he mounted some of the most frenzied picking this side of Nashville... Kevin Armstrong's Opera for Heathens is a wonderfully entertaining hour."

In the role of "Cerberus" in the world premiere of Don MacDonald's opera "Khaos" at the Capitol Theatre in Nelson, Kevin, and the production, got nation-wide attention, getting coverage in the Globe and Mail and on CBC Radio.  All 5 performances were sold-out, and the production played to a quarter of Nelson's population.  This feat was surpassed with a 6-show, sold-out run of "Jesus Christ Superstar", also in Nelson, which Kevin directed, as well as finally singing his dream role as Judas.

Recent performances include Vancouver Opera, Toronto Fringe Festival, Vancouver Fringe Festival, and performing in and directing Jonathan Larson's "Rent", which toured the East Kootenays.

Film & Television
Worksafe BC
Injured Trucker
Carrabba's Italian Grill
Opera Singing Chef
GoodnessKnows
Aspiring actor
Transamerica
Man Getting Fit and Singing
The Flash
Cheating Husband
Dragged Across Concrete
Dead Body Photo Double
Riverdale
Frank Andrews' Co-Worker
Loudermilk
Driving Double for Will Sasso
X-Files
Escaping City-Dweller
All I Want for Christmas
Protesting Caroler
Killer Clothes
Bodybuilder Bob
Stress (music video)
Actor
Satan's Slaughter Six: A Film by G. Adrian Dumkopf
G. Adrian Dumkopf
All Souls
Evil Doctor's Asistant
Rollerball
German Reporter
Training
Method Acting Intensive
Lee Strasberg Institute
2018
Tactical and Firearms
Thomas J. Potter
2019
Stunts and fighting
Thomas J. Potter
Since 2018
PAL Firearms Permit Holder
Since 2018
Certified Intermediate Actor-Combattant
Fight Directors Canada
2015
Certified Basic Actor-Combattant
FIght Directors Canada
2014
First Aid w/CPR-C
Red Cross
2015
M.Mus (Opera Performance)
McGill University
2002
B.Mus (Vocal Performance)
McGill University
2000
Theatre, Musical and Opera (highlights)
Tom Collins
Rent
Elephant Mountain Music Theatre
Judas
Jesus Christ Superstar
Elephant Mountain Music Theatre
Pontius Pilate
Jesus Christ Superstar
Thunersee Spiele/Stadtstheater Flensburg
Baritone Soloist
Night of the Musicals
European Tour
Ensemble
Sweeny Todd
Vancouver Opera
Ensemble
Evita
Vancouver Opera
Bluebeard
Ritter Blaubart
Frankfurter Kammeroper
Ceprano
Rigoletto
Bremer Theater-Bremen
Loge
Das Rheingold
ViVace-Vancouver
Angelotti
Tosca
Bad Hersfelder Festspiele
Don Jose
Carmen
Stadtstheater Wiessbaden
Luigi
Il Tabarro
Calgary Concert Opera
Skills and Interests
-Martial arts
-Stage fighting
-Fencing and swordplay
-Languages (German, French, Italian, plus dialects)
-Professional singer
-Play and own numerous musical instruments (electric and acoustic guitar, bass, drums, keyboards)
-Running, swimming and weight-lifting